To walk into the Run It Up Reno tournament area today, you'd have thought you were at a World Series event. The tables were full, money was flying everywhere, and…wait…this isn't right.
Joe Stapleton had a massive chip stack?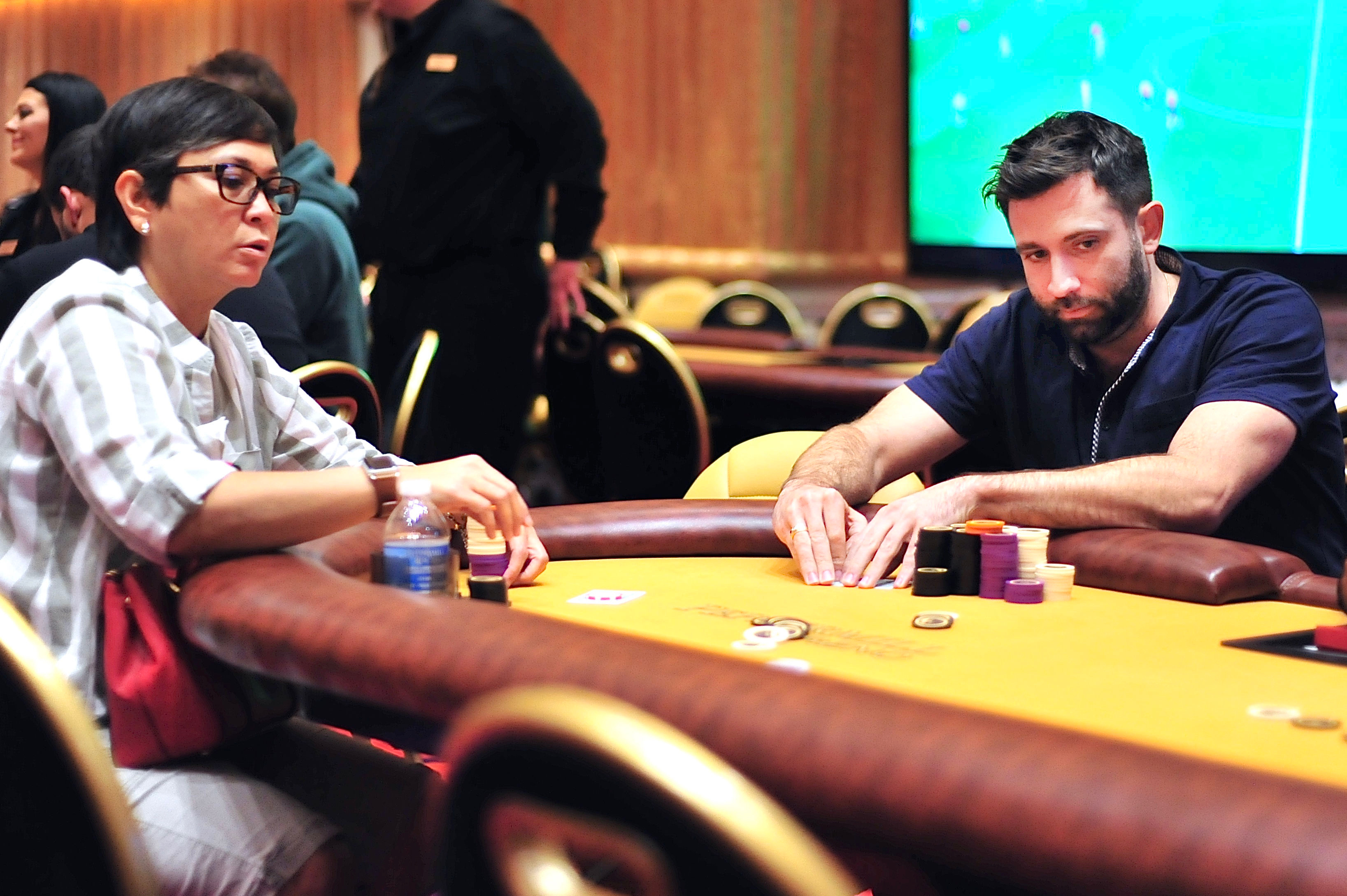 Story checks out, I guess. There behind the biggest little chip stack in the world sat Stapes fingering a high denomination chip. "I've got this weird one here," he said, trying to figure out how to assemble a stack unlike any he has seen. Asked how many bullets he had to fire, he looks proud as he only holds up two fingers.
That's two $86 buy-ins and a dream for the prodigal poker commentator who is doing double duty here today as a commentator and–a near as anyone can tell–a poker player.
Stapes' bullets are among the 825 or so fired so far here today at the Moneymaker Tour stop in Reno. The winner of this thing will get a $30,000 Platinum Pass, guaranteeing a seat in the $25,000 PokerStars Players No-Limit Hold'em Championship and a free trip to the Bahamas in January.
Moneymaker has been hosting these things at casinos all over America as he and the rest of his PokerStars pals celebrate 15 years since the legendary win at the World Series of Poker Main Event. (More on that and the new 30 for 30 podcast about Moneymaker over here). It's sort of amazing to watch it all happen. Jason Somerville was once just a dirty basement kid, and now he's hosting a massive tournament series of his own. Chris Moneymaker won the World Series on a dream satellite entry, and now he's giving people all over America a chance to do the same thing. It's enough to make you think somebody went and make poker fun again.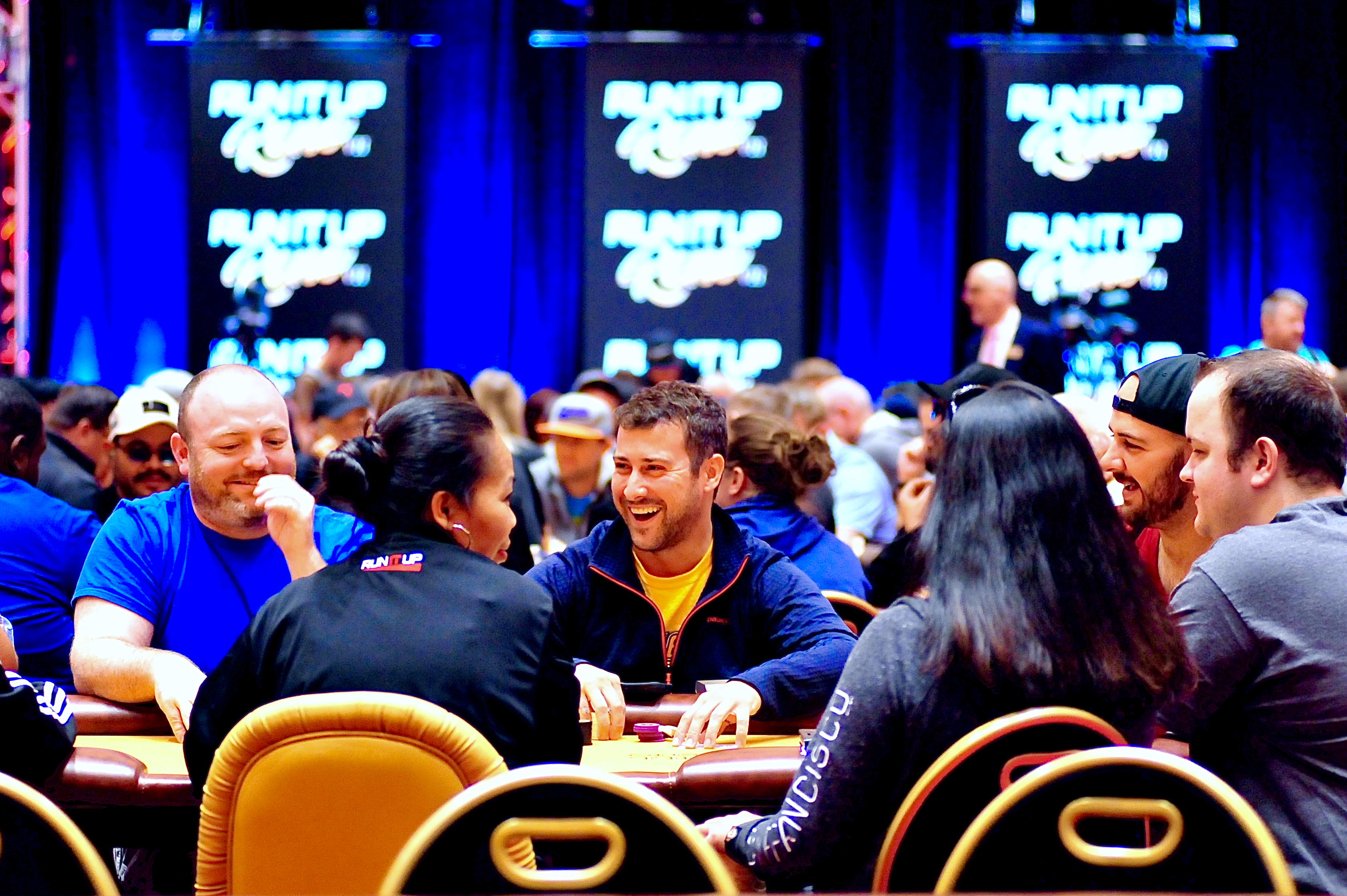 If firing bullets like you're wearing a gold-leaf bandolier is fun, Chris Moneymaker is having more fun than anybody in the room. After super-late regging in order to take care of a prior commitment, Moneymaker arrived, busted, re-fired, busted, re-fired, busted, and made it back to the registration desk with seconds to spare before the end of registration. Four bullets, and he had time to stop and grant a fan's request for a picture.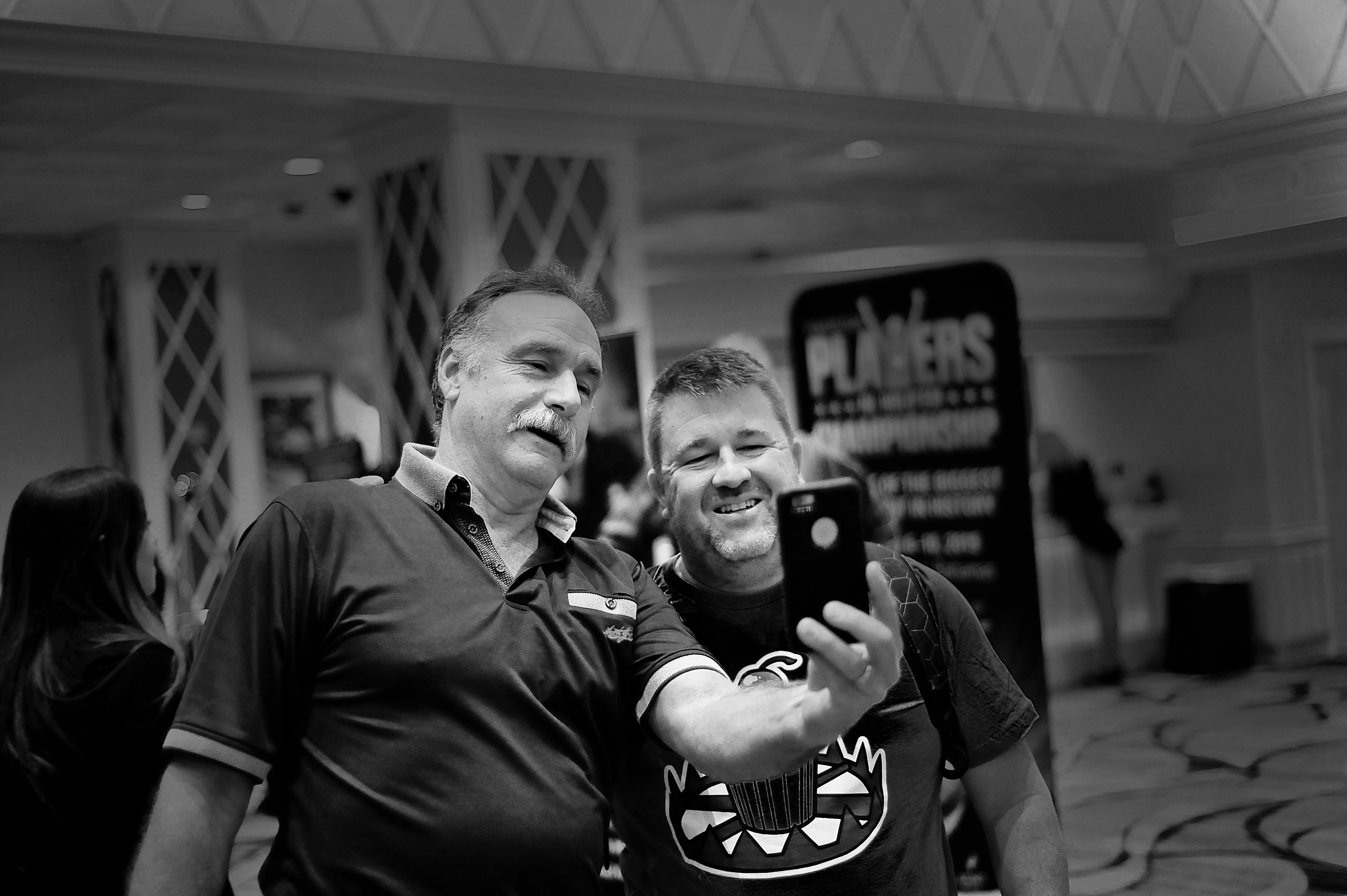 And then he went straight to table 57 where, if you turned you back long enough to question whether Joe Stapleton was being fed poker tips through a hidden ear piece, you would have heard a roar of laughter and someone scream "Kings no good!"
Across the way, Moneymaker was already putting on his bandolier backpack and announcing for all to hear…
"I AM NO LONGER IN A POKER TOURNAMENT."
His kings couldn't stand up to a king and a jack.
Just cracked aces then the goat @CMONEYMAKER sat down and then I sadly busted his kings. 50/50 on the emotions. @runitupreno @PokerStars @PokerStarsBlog playing strong after finishing 38th last week @LivePokerRoom #RunItUpReno pic.twitter.com/9l9LvGTpCy

— CxDx ➡️ Reno (@cheapdome) October 23, 2018
And with that, Moneymaker just left the room in a huff.
Actually, that's a complete lie. This is his tournament. He congratulated to the dude who busted him out. He chatted with Jeff Gross for his vlog. He walked around the room like he'd rather be nowhere else (except maybe, you know, at a table in a seat).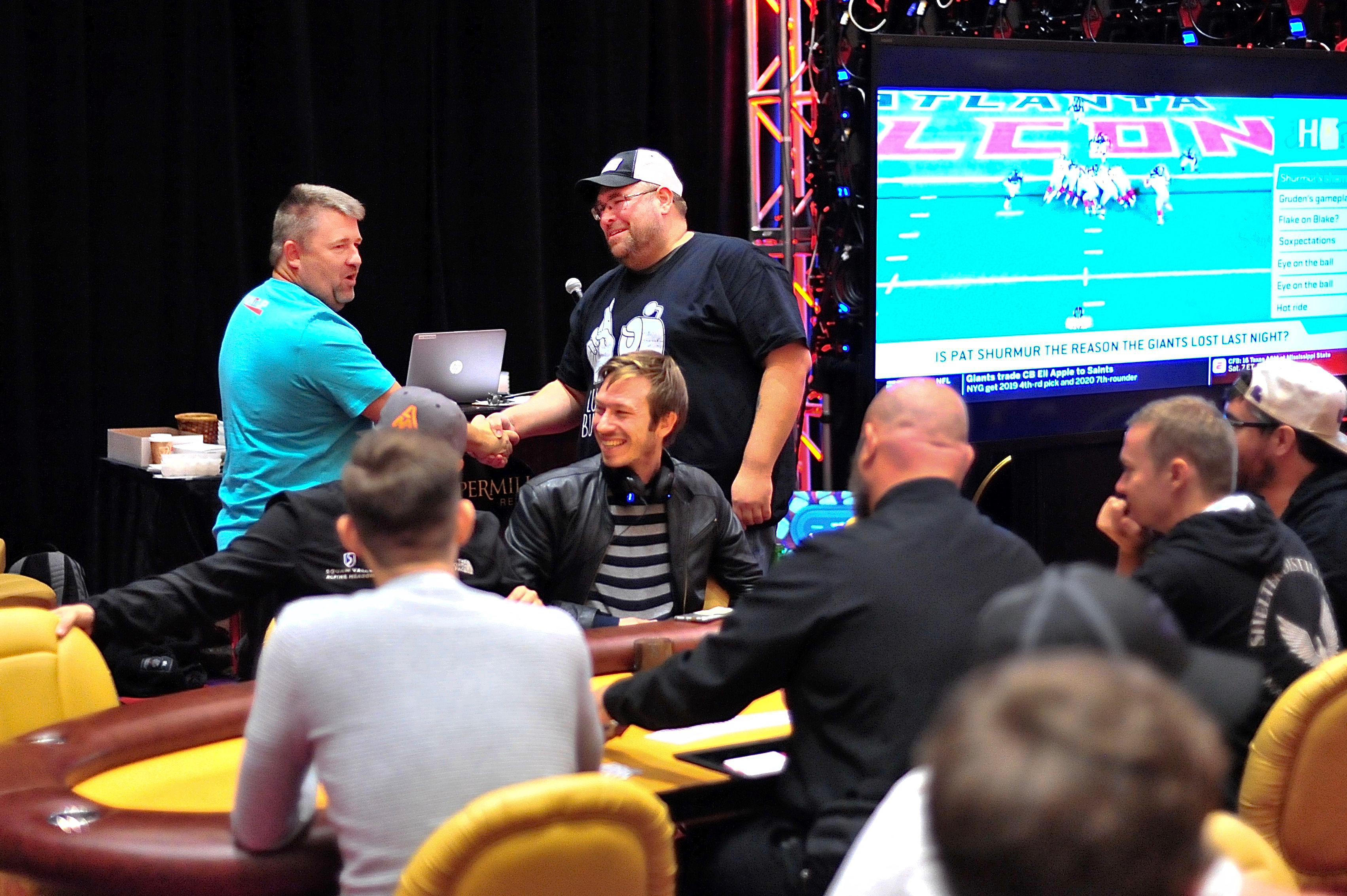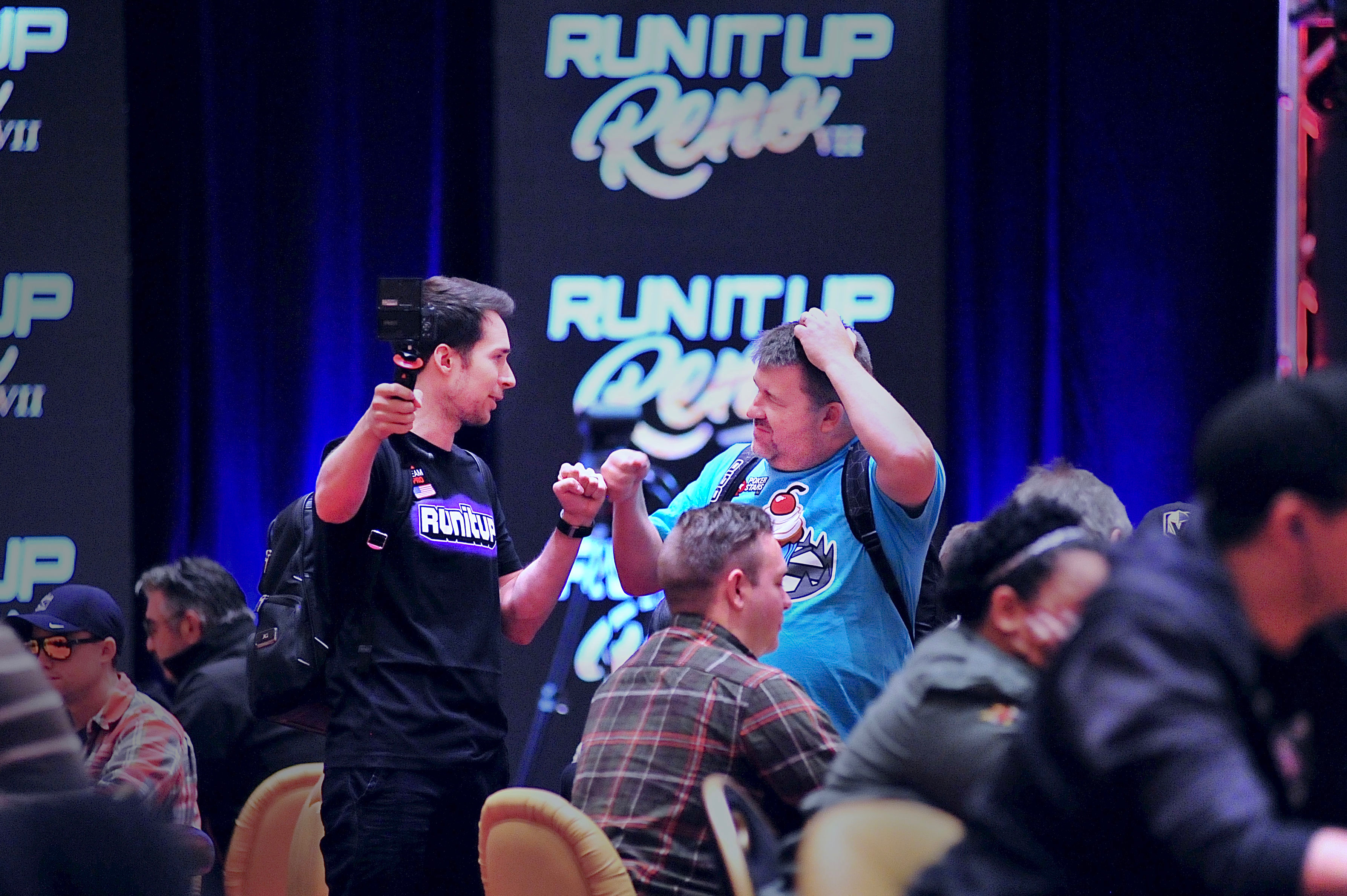 It's no mystery how this happens. Moneymaker is still grateful for how his life changed 15 years ago. And now he's enjoying a year of helping other people try to realize that same dream.
The only mystery is…seriously, where the hell did Stapes get all those damed chips?